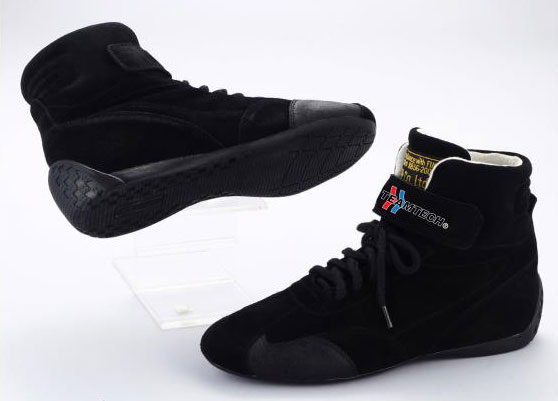 Choosing a Pair of Driving Shoes
A good racing shoe isn't just any old shoe. TeamTech driver shoes deliver the right combination of protection, fit, and maneuverability to ensure the best performance. There are many things to consider when selecting a pair of shoes, including:
Safety
Maneuverability
Pedal feel and pedal grip
First and foremost, the shoes should provide protection from fire and heat. They should also have a low heel, which will enable your foot to move around the pedals more easily for better control on the track. Good racing shoes should also enable you to feel and grip the pedals through the soles–while being thick enough to protect from the heat of the engine, of course.
TeamTech Driver Shoes
TeamTech driver shoes are made with suede uppers and Normex inner liners and soles. They have extra-insulated soles to reduce thermal transfer. Our shoes are flame retardant and meet FIA/SFI 3.3 safety specifications.
Caring for your Driver Shoes
A quality pair of driver shoes is an investment. Our shoes are competitively priced, but we still recommend that you take extra care of your TeamTech driving shoes because they ensure high performance and safety. For the greatest longevity of your driving shoes, use them only while you're racing, and wear another pair when you're just walking around the track.
We are here to help you make the best choices in safety equipment for your hard earned racing dollar. TEAMTECH products will keep you on the winning edge.
Hours
Mon-Fri:
8:00 am - 5:00 pm